Attract more customers with 2021 optometry marketing strategy.
Imagine if your optometry business appeared in the top three local search results on Google. This would result in an instant increase in the number of people visiting your practice.
According to GeoMarketing survey, 76 percent of location-specific searches lead to a same-day store visit.

Would you like to attract more customers from optometry marketing on Google? The key to achieving this is to appear in the top three search results that pop up when people search for optometrists in your local area.
The good news is that you can achieve this quickly and easily with better local SEO.
What Is Local SEO and How Can it Help You Market Your Optometry Business?
Local SEO is the process of optimizing your website so that it ranks higher and generates more traffic from location-based searches.
When someone carries out a local search on Google, a navigation panel with just three search results appears on the first page of results. Businesses appearing in these first three results have a click-through rate of over 69 percent. Below is a typical example.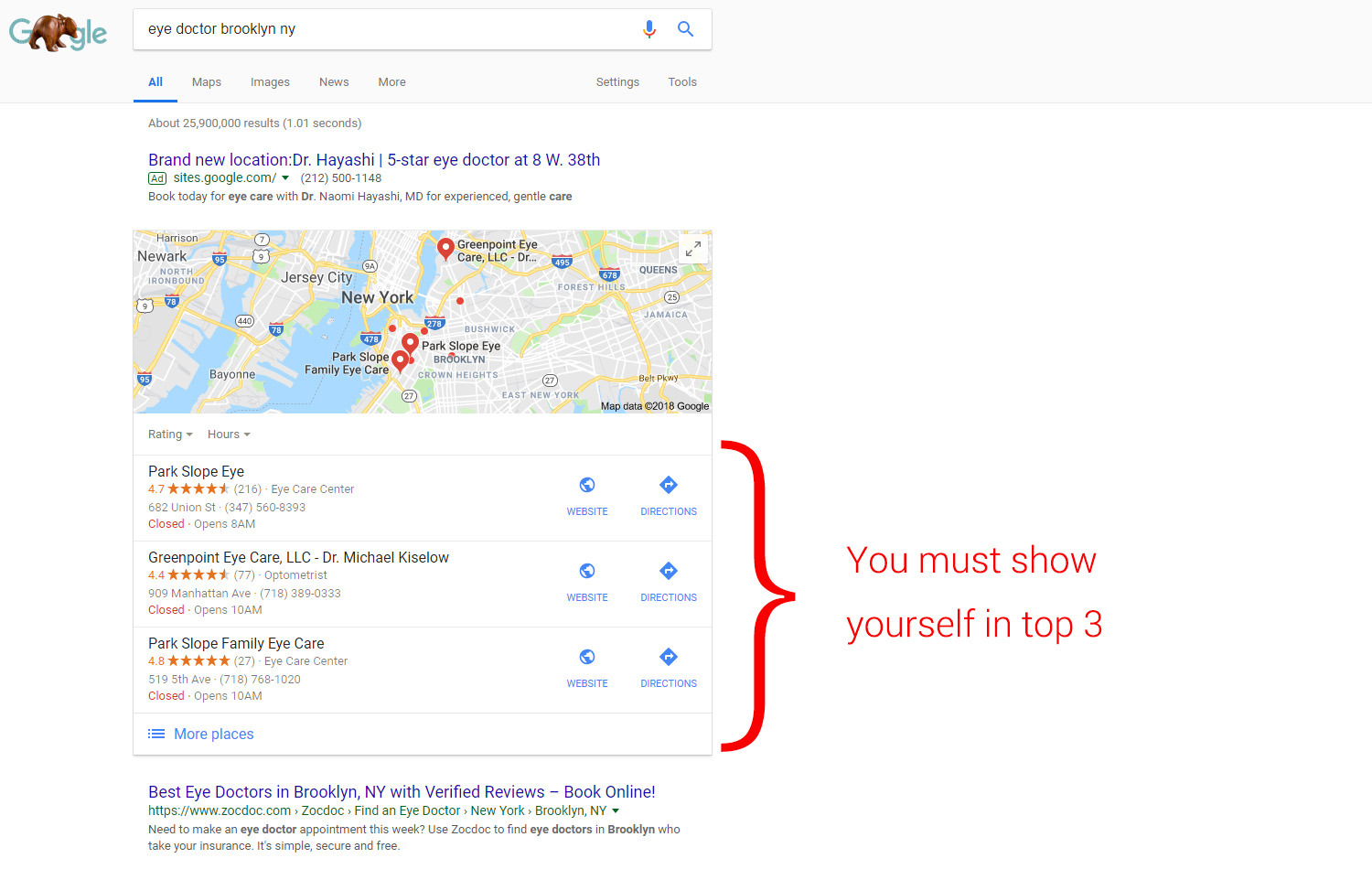 Why Is Local SEO Important for Optometry Business Owners?
People are increasingly using their smartphones to search for nearby businesses. In fact, 89 percent of purchases start with an online search.
As a local optometry business owner, it's more important to carry out SEO to improve your local search results than your normal search results.
Which Keywords Are Used Most Often in Local Searches?
First, let's check out which keywords are used most often in local searches. Below is a screenshot from Google Keyword Planner. The data comes from Dec 2017 to Nov 2018.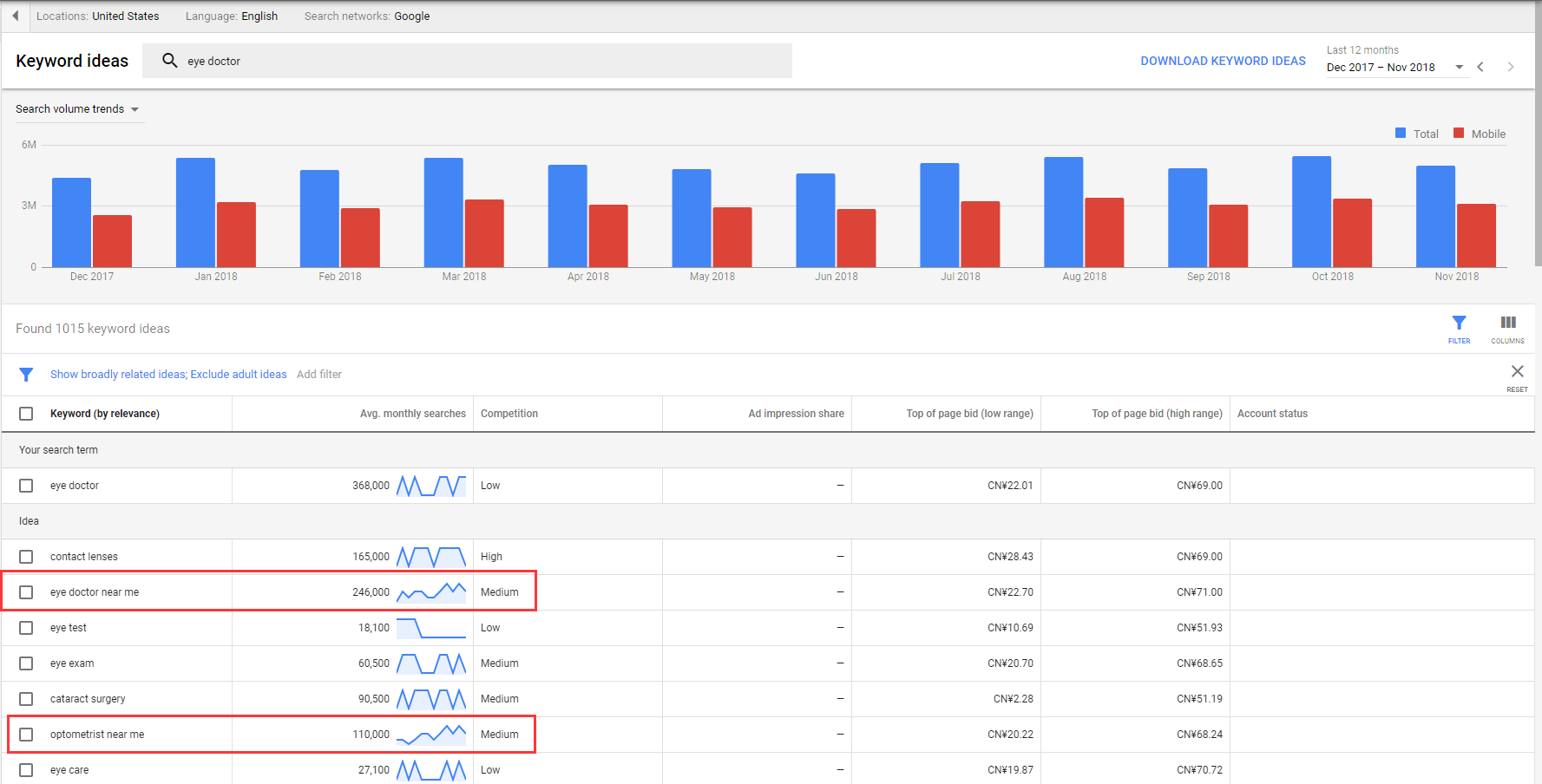 Let's look at the number of searches using the keywords, "eye doctor near me" and "optometrist near me".
"Near me" is the phrase that people use most frequently when they want to find a local business that they can visit on that day.
It's easy to see how important it is to improve local SEO to bring more customers into your practice.
How Can You Improve Your Local SEO?
Registering on Google My Business is the first step, but it's not enough. This is more than just listing management.
After studying all the local search results in the top 50 cities in the US, we provide you with 5 easy tips for improving your local optometry marketing, only cost you 30 minutes. Here you go!
Tip 1: Add Keywords to Your Title Tags and H1 Tags
The most frequently used keywords for the eye care industry are eye doctor and optometrist, so you need to include both "eye doctor" and "optometrist", together with the name of your city, state and store name, in the <title> tag and <H1> tag.
A typical code for the title tag would be:
<title>Eye Doctor | Optometrist | City Name State Name | Store Name</title>
So, if you operated the Park Slope Eye practice in Brooklyn, NY, your title tag would look like this:
<title>Eye Doctor | Optometrist | Brooklyn NY | Park Slope Eye</title>
Time to check if your website is correctly matched the above rule.
1. Open your website in the browser
if using Chrome browser, right-click " View Page Source"
if using Safari, right-click "Show Page Source"
2. Use combo Ctrl+F or Command+F, fill in "title" to locate your current Title tag
The same procedure can be applied to the <H1> tag
Now, you see what you have on your website, you can manage to change it by yourself or ask your website developer to do it.
Check if the title tags and H1 tags on your website are in accordance with the example above. If not, change them. This will only take five minutes.
Tip 2: Include NAP on Every Page of Your Website
NAP stands for Name, Address, Phone Number. NAP is essential for businesses that want to rank at the top of the local organic search results because search engines take NAP into consideration when deciding which businesses to display for geo-targeted searches.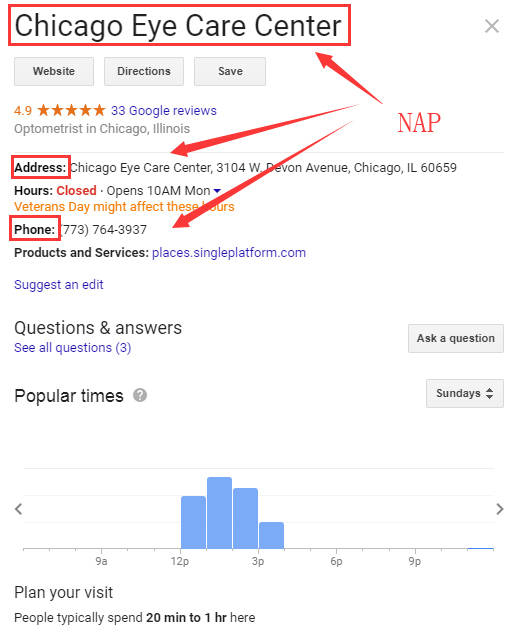 Therefore, you need to include NAP as combination information on your website. This will make it easier for your website to be crawled by the Google spider.
If you have multiple locations, set up a different page for each location. Include the correct NAP for that location on the relevant page. Then, repeat Tip 1 for each location page.
Tip 3: Make Your NAP Information Uniform Everywhere
If two different listings are created in different places, or if the same business has multiple listings associated with it, the search engine might be confused.
This is because it is unsure as to whether there is duplication, conflation, inconsistency or missing data.
To remedy this quickly and easily, use this free yet powerful tool for locations in the US and Canada: Moz Local Search

Type your business name and zip or postal code into this tool to see all the related propagated content. For example: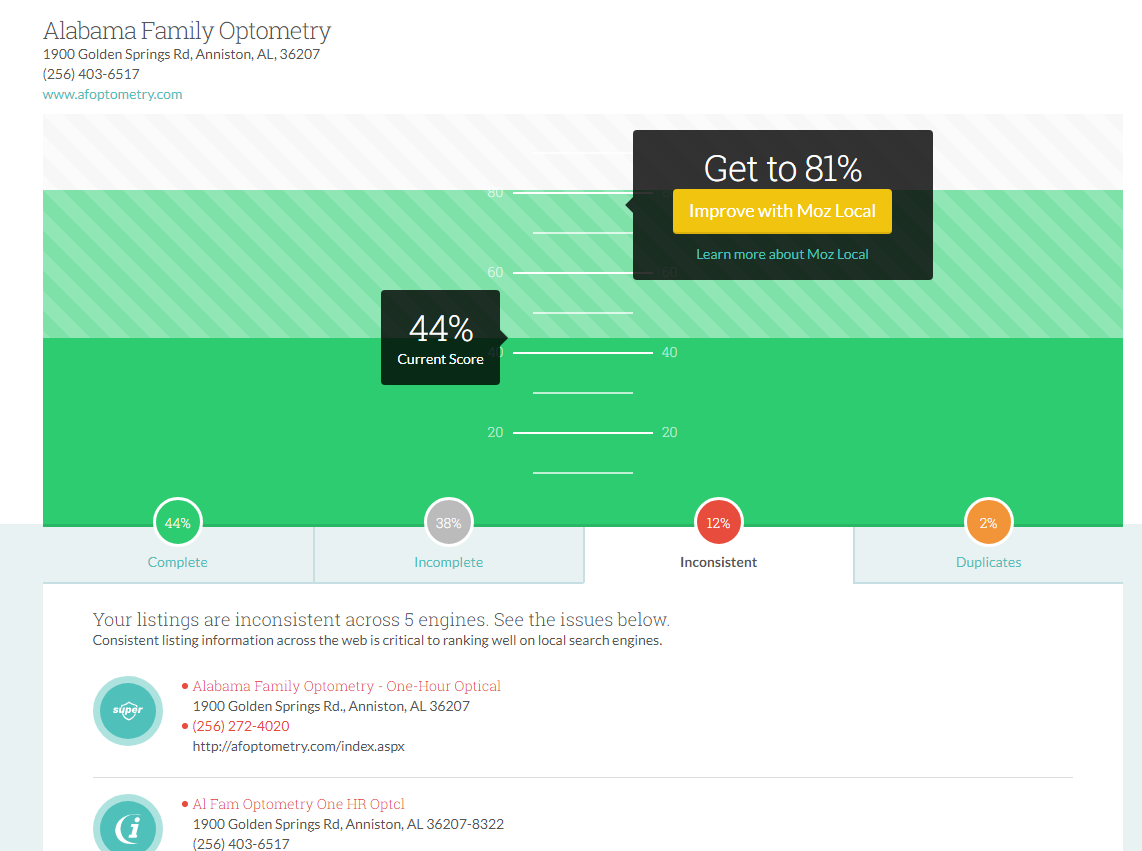 The highlighted red text shows information that is not uniform. Update that information so that it is uniform everywhere.
Tip 4: Encourage Your Happy Customers to Leave Reviews in Store
As soon as a patient has had an eye examination, ask him or her to give your business a review straight away.
Ask for the reviews to be written on your current listing page in Google. Patients will find it complicated if you ask them to go to your website, fan page or other review platforms. This will discourage many people from leaving a review.
The best way of encouraging each patient to leave a review is to provide them with a shortcut, which is a direct link to your review page on Google. With just one click, your customers can reach this page directly.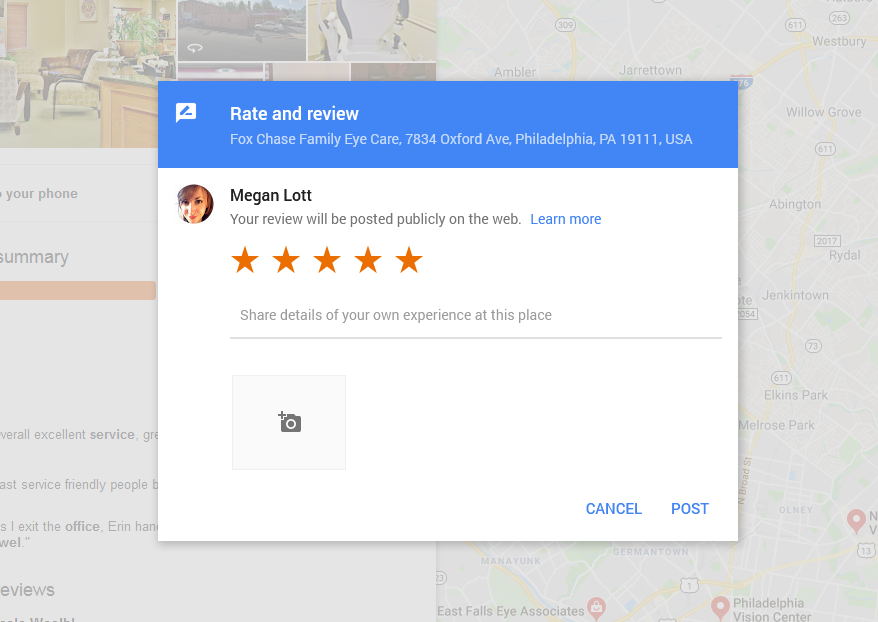 Here's a step-by-step guide to setting up the shortcut:
1. Type create a link for customers to write reviews into Google. You'll then reach this link:
https://support.google.com/business/answer/7035772
2. On that page, input your store name on the map, and locate the exact listing address.
Then, copy the Place ID, which is the long piece of code as shown in the example below.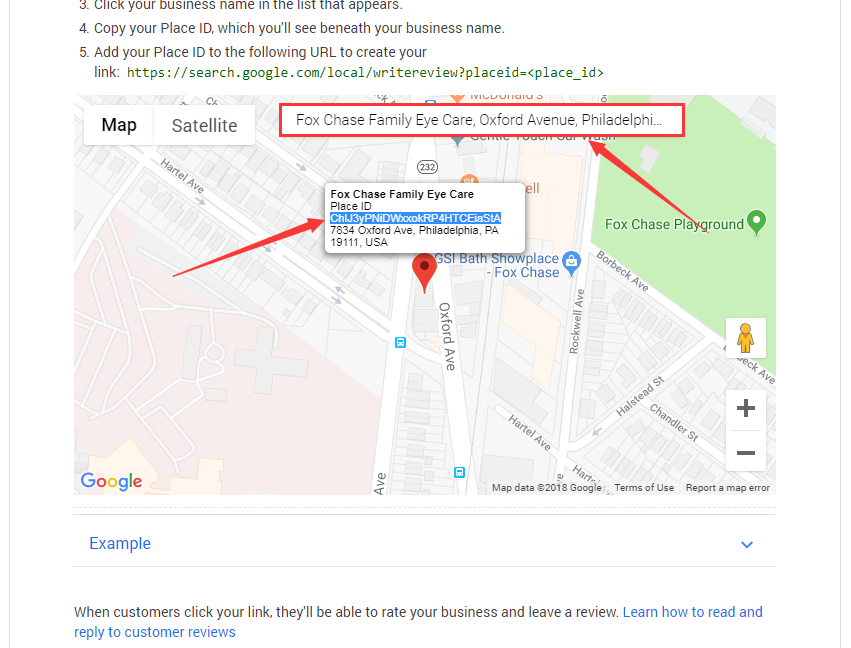 3. In the URL below, replace <place_id>with the Place ID that you've just copied:
https://search.google.com/local/writereview?placeid=<place_id>
So, the link for the place ID given in the screenshot above would look like this:
https://search.google.com/local/writereview?placeid=ChIJ3yPNiDWxxokRP4HTCEiaStA
4. That's it! Just give this URL to all your customers and they'll be happy to write a 5-star review of your great service right away. But, what can you do if you don't have the customer's contact details? Can you still send them the URL? Don't worry, there is an even faster way.
5. Generate a QR code and display it in a prominent place. Once a customer scans the QR code, it will direct them to your review page's URL. Cool, isn't it?
There are many free tools you can use to generate a QR code. Google "free QR code generator" or use the one below:
https://www.the-qrcode-generator.com/
Scan the QR code below with your phone camera. Boom!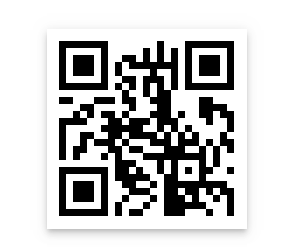 Tip 5: Get Backlinks for Your Website from Your Local Community
Also known as "inbound links" or "external links", backlinks are links from other websites to your website.
Search engines consider backlinks "votes" for your website and content. This can improve your site's rankings in the search results.
Ask other local business owners, community groups, charities, and local bloggers and newspapers if you could contribute to their websites. Your contribution would include a link back to your website.
Another way of gaining backlinks is to appear in local directories, so ensure you're listed in as many of these as possible.
I hope this guide helps you to improve the local SEO for your optometry marketing within 30 minutes.
And now, I'd like to turn it over to you:
Do you have a comment or a question?
Please let me know by leaving a comment below.